Birdspotter is not maintained anymore.
After Twitter's API price changes in March 2023, running Birdspotter is far from viable.
Find your next opportunity on autopilot
Intelligent keyword monitoring for Twitter helps you find your dream lead in a matter of seconds.
Close more clients using automatic searches pulling the exact subject you need.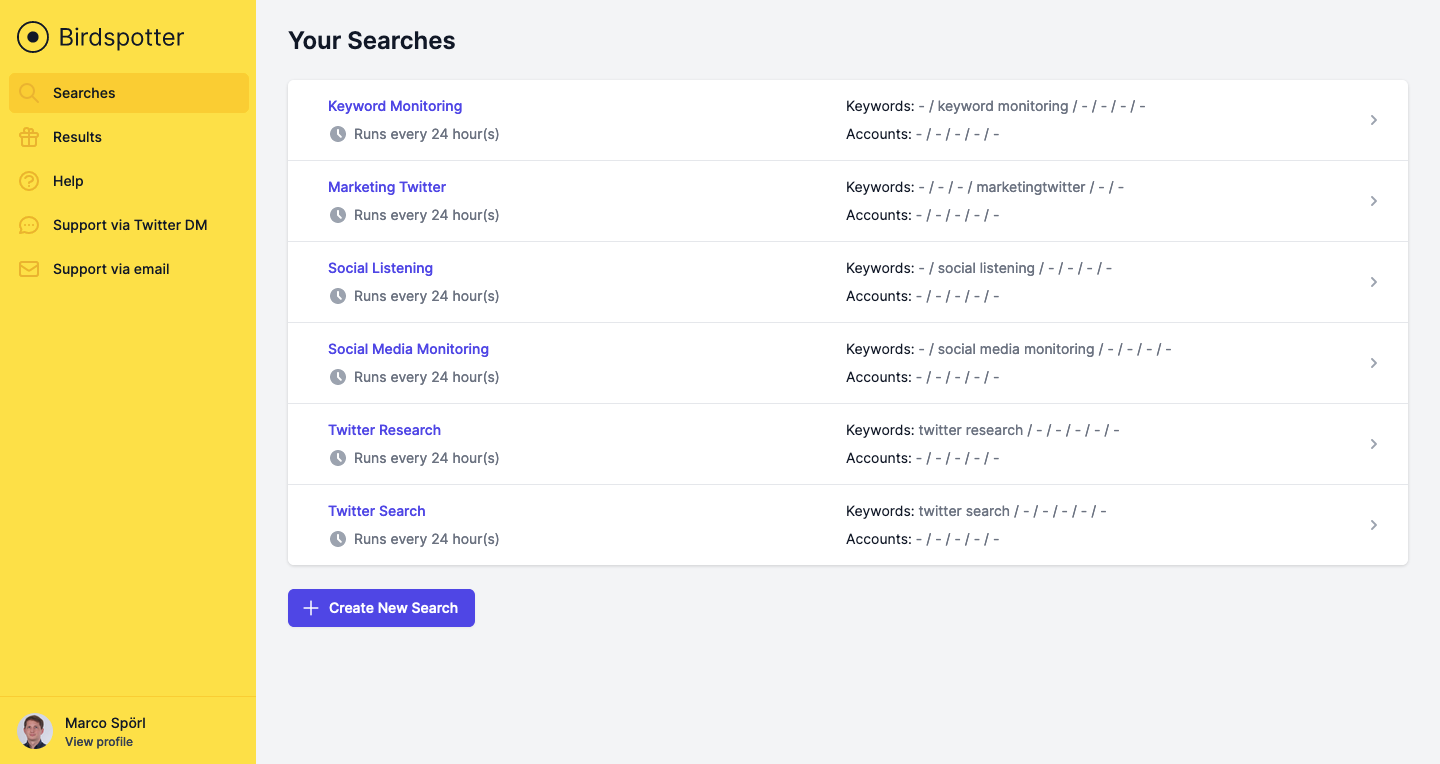 Tired of getting no relevant results with your Twitter search?
Say goodbye to inferior search results by leveraging 30 keyword and filter options.
Birdspotter makes it easy to spot your target audience in a heartbeat.
Get your prospects instantly delivered to you, save more time, and improve your chance for success.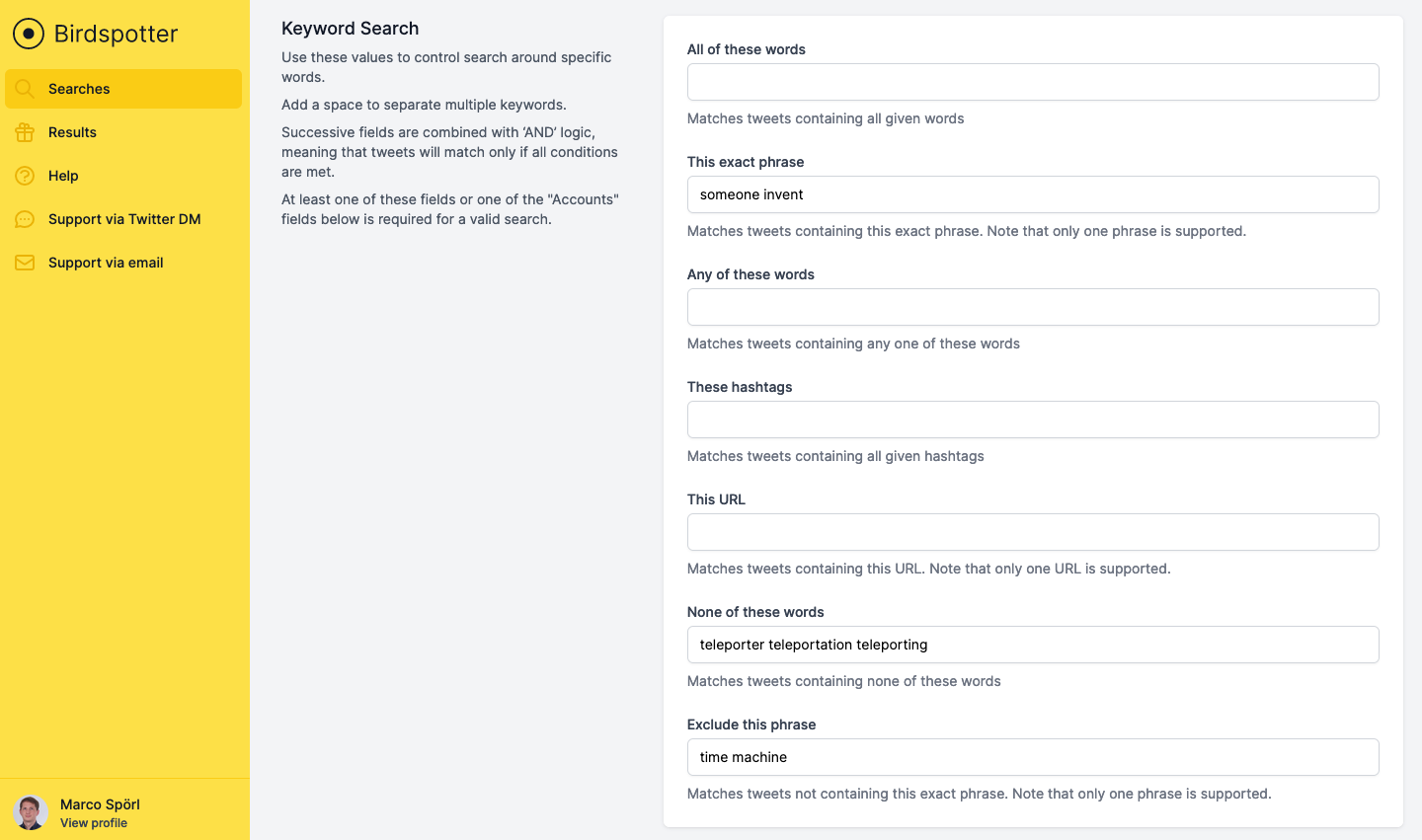 Birdspotter supports you
Engage with the perfect content laser-focused on your needs.
Research thousands of different combinations to find your dream opportunity.
Automatic, high-quality searches give you a competitive advantage in spotting your next customer or idea.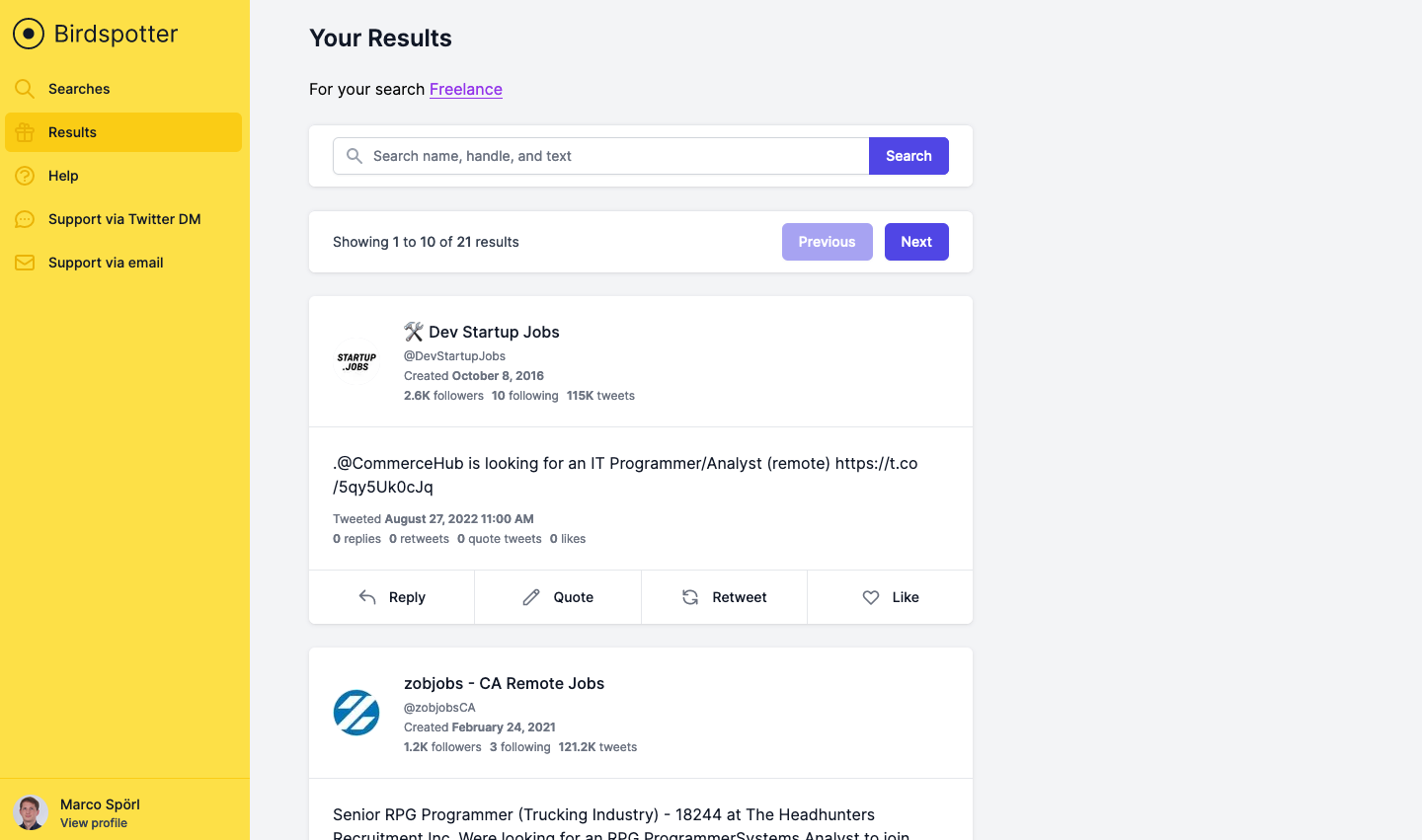 How does it work?
Step 1 - Set a name.
Step 2 - Add a keyword.
Step 3 - Save your search.
Step 4 - You're done!
Simply set the search and relax - Birdspotter will send the results to your inbox.
What customers are saying
Frequently asked questions
What is Birdspotter?

Birdspotter automates Twitter search. You can create searches using 30 options across keywords, phrases, and accounts, as well as filters for author, engagement, and content. Searches run at fixed intervals from 1 to 24 hours. You will be notified of new results via email. The web app gives you an overview of your previous results and allows you to interact directly with tweets.

Who is Birdspotter for?

Primarily for entrepreneurs, makers, freelancers, and small businesses. Yet Birdspotter's automatic search provides value for journalists, researchers, authors, and everyone else searching regularly on Twitter.

How can Birdspotter help me?

Find tweets asking for your services. Monitor for tweets that show an unmet customer need. Find and engage with tweets mentioning your brand or product. Engage and grow with your target audience. Listen to tweets about your competitors. Unearth tweets asking for your expertise. And this is just a short overview of the jobs you can get done.

How many searches can I create?

There are two packages available. 'Essential' offers you 3 searches and is great for simple research or single brands. 'Advanced' has 9 searches, is perfect for multiple products, and allows for more search strategies.

Do you monitor anything else but Twitter?

No. Adding additional sources is only a long-term goal. Birdspotter's primary focus is to perfect the search for Twitter. That's the reason why it can offer so many keyword and filter options. I'd have to sacrifice that level of detail with support for other sites.

How long is the free trial?

You can test Birdspotter for 14 days. Free of charge, without any commitment.

Do I need a credit card?

No, you don't. Simply log in with your Twitter account and you're good to go.

Why does Birdspotter ask for so many permissions when I sign in?

Only two are relevant. 'Post and delete tweets for you, and engage with tweets posted by others for you' is needed for engagement features. 'See your email address' is needed to send you search results. Everything else is not required, yet Twitter's permission model does not allow finer permission control.

Will I be charged after my free trial ends?

No, you won't. When your free 14-day trial ends, your searches will simply be paused. You can come back any time to hop on one of the paid plans.

What if I don't like it?

You can cancel your subscription at any time, no questions asked.
Simple pricing, no commitment.
Start with a free 14-day trial, no credit card required. If you're not satisfied, cancel anytime.
Annual billing
(get 2 months free)
3 searches

Hourly scheduling

Up to 100 results per run

No monthly result cap

300 results stored per search

All search and filter features
9 searches

Hourly scheduling

Up to 100 results per search run

No monthly result cap

900 results stored per search

All search and filter features
Custom number of searches

Hourly scheduling

Up to 100 results per run

No monthly result cap

Custom results history

All search and filter features